For decades, Burma (officially renamed Myanmar by its military government, the Junta) isolated itself from western eyes. It began to open to tourism in 1996, but its use of forced labor and the imprisonment of Nobel Peace Prize winner Aung San Suu Kyi led to international economic sanctions and an unofficial tourism boycott.
Now though, things are changing for the better. Aung San Suu Kyi is free, the country's opening up to the west, and an official visit by Hilary Clinton recognizes the Junta's efforts to bring Burma into the modern world. Burma is finally ready for its moment in the spotlight. Here are eight reasons why you should visit Burma now.
1. Freedom from the beaten backpacker path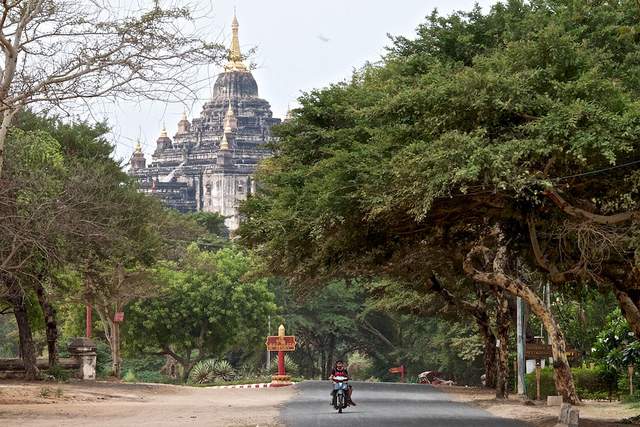 Decades of tourism development in Asia has made it harder and harder to feel a thrill of exploration. In Burma, that thrill comes back with a vengeance. As you explore, you'll find that the path is yours to forge. Without a major tourism industry, everything feels exciting and new, and the only time you'll see another tourist is at your hostel. It's easy to feel as if you're the first tourist the country has ever seen, and that's a feeling you won't soon forget.
The only flights into Burma are from neighbouring countries. Air Asia, one of Asia's cheapest carriers flies twice a week from Bangkok to Rangoon for less than US$50. Burma's tourism infrastructure is still relatively immature, but it does have plenty of hostels at major cities and tourist sites and some even have websites offering advance booking. To make life easy for yourself, book into a hostel online for your first night. The next day, take some time to visit other hostels and move if you need to. Hostels in tourist areas outside of cities tend to be clustered together, so in these areas your best bet is to just wander around, walk into your favourite one, and ask for a room.
2. The sprawling temples of Bagan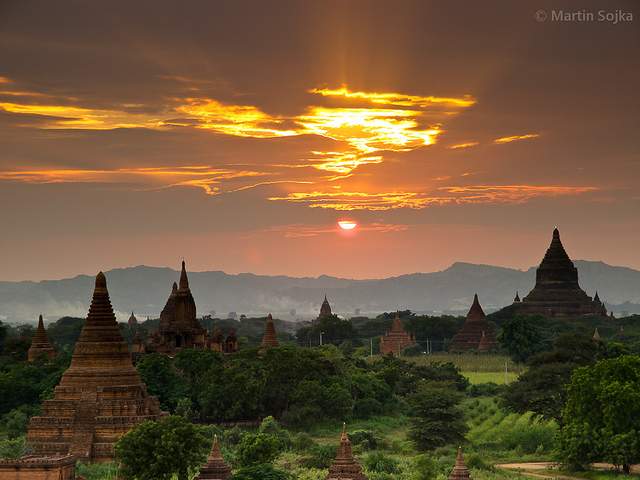 Bagan, a centuries old religious capital of ancient empires and home to bygone emperors, is a 26 square mile plain of over 4000 temples. To really understand its vastness, you need to hop on a hot air balloon, available only between October and March every year, and float with the breeze across the plain. Outside of balloon season, a view across Bagan is a short pre-sunrise horse and cart journey away to Shwesandaw Paya – the ironically named "Sunset Pagoda.". Waiting for you at the top is an uninterrupted vista, with temples big and small stretching to the horizon, all being gently tickled awake by the warm light of the rising sun.
To reach Bagan, you have to pass through the town of Nuang U. It has a jetty, a ferry pier, an airport, and a long haul bus stop visited by busses from Rangoon, Mandalay, and Inle Lake. A lot of visitors like to take the trip downriver to Nuang U from Mandalay, while those with a tighter schedule fly in on one of Burma's many local airlines. Buses to Bagan only run overnight and aren't known for creature comforts. Avoid the trains which are slow, prone to delays, and often break down. The price of each of these options varies every year, so always bring extra cash.
3. Side streets of Mandalay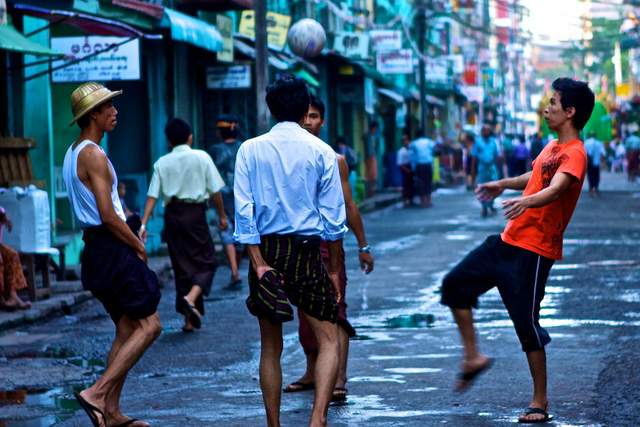 Mandalay. Its heavily romanticised name conjures an ethereal sense of calm, romance, and serenity, but the reality couldn't be more different. It's a city of wild disarray. Diesel fumes fill the air and old colonial buildings line the bustling streets. All around, decades of paint peel from walls, turning the city into a giant patchwork of colour. Off of the main streets is where you'll see life. Down one street, people playing Chinlone – Burma's national sport. Down another, vast abandoned shopping malls, remnants of a tourism boom that never came. Down a third, a sea of street food, snacks, and market stalls. There's no predicting what's round the corner and you'll find yourself wandering for hours in a fascinated stupor.
As Burma's second largest city, Mandalay is easily reached from anywhere in the country with local busses and flights entering and departing at least once a day from most major destinations. It's also home to Good News Travels, one of the Lonely Planet's recommended travel agents. Pay them a visit early on in your trip to make sure your adventure is as smooth as it can be.
4. No "tourist price"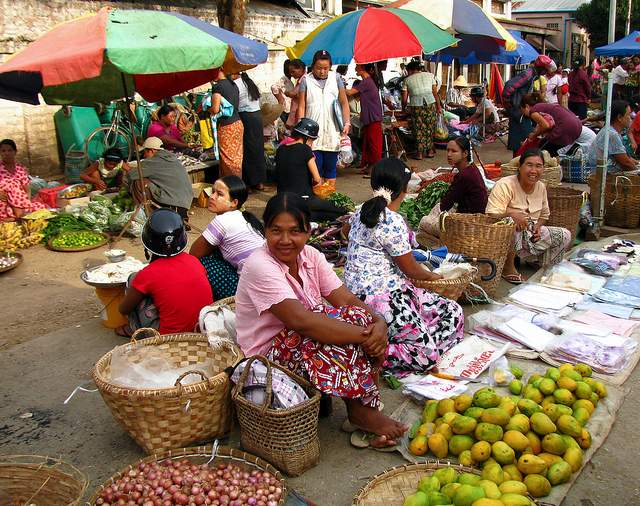 With almost 90% of people identifying as Buddhist in Burma, the country is extremely devout. Perhaps because of strong Buddhist beliefs in fairness to all people, the idea of a "tourist price" is relatively rare. Ask any local how much a journey should cost, and nine times out of 10, that is the first price offered by a driver. In souvenir markets where price gouging is expected, starting prices are surprisingly reasonable, stall owners are keen to bargain, and tend to avoid the strong arm bargaining tactics used elsewhere in Asia.
Unless you enjoy being mercilessly ripped off, do not under any circumstances change Burmese Kyat (KS) before entering the country. The official exchange rate is extortionately expensive, totally unrealistic, and most of your money will go straight into government coffers. Instead, ask your hostel owner where to change money after you arrive. They'll normally direct you to a man standing on the street corner. Give him your USD (only new, clean, and unmarked bills are accepted) and he'll give you Kyat at a more realistic rate. In early 2011 USD100 equalled KS88,000 through a street exchange, but at today's official exchange rate, the same amount would only get you KS6,510. Once you have your Kyat, short journeys on a rickshaw will cost around KS2,500 (just under USD3) and a decent local meal will set you back from KS1,000 toKS2,000.
5. Leg Rowers of Inle Lake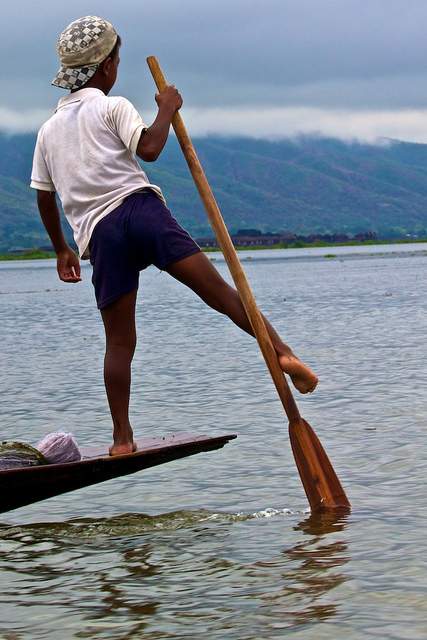 If you've seen photos of Burma, chances are you'll have seen an image of an Intha leg rower – a usually a man or boy – with his leg wrapped around a paddle and steering a boat laden with fishing nets on Inle lake. When you come across a leg rower on your tour of the lake, watch as they use both hands to untangle nets or prepare bait, while steering and powering themselves along using their leg. No straps, no motor, just balance and practice. They move so quickly and so efficiently you can't help but wonder why leg rowing didn't catch on elsewhere.
The best way to Inle Lake is by air from Mandalay or Rangoon, landing in the small transit town of Heho. Tickets cost around US$100 per person on Air Mandalay. From Heho, take an airport taxi to Nyaungshwe on the banks of Inle Lake.
6. Handmade Lotus Fibre Silk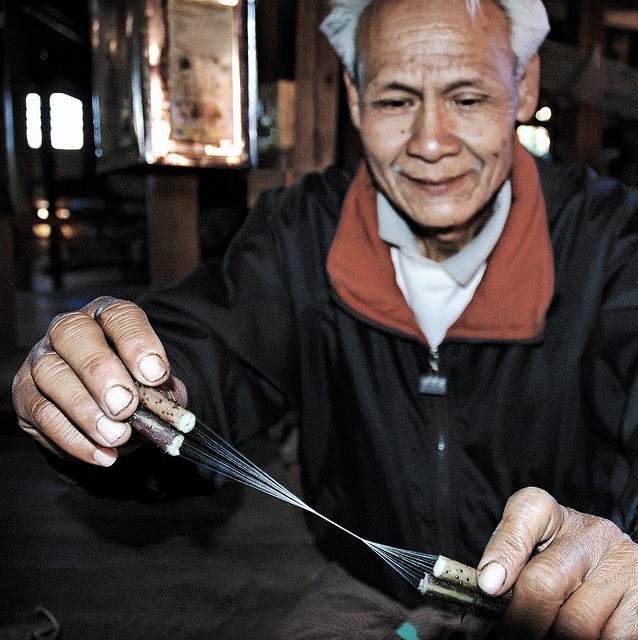 The stilt village of In Phaw Khone in the middle of Inle Lake is the only place in the world where people spin thread from lotus root fibres. Standing in the workshop, you can watch craftsmen expertly turn lengths of sticky brown root into some of the most valuable and sacred fibres on earth. It is a painstaking process, taking over two months of labour to produce just one kilo of fibre. That rare fibre is then used to create reams of fabric and robes, generally given as gifts of devotion to Burma's monks. Of course, lotus fibre fabric and clothes are available for sale but because of the amount of labour involved and the rarity of the raw materials, they don't come cheap.
Pure lotus fibre fabric is course and muddy brown in colour, yet it costs upwards of US$100 for a piece the size of a handkerchief. For a more appealing souvenir, buy a lotus fibre and silk blend, available in all the colours of the rainbow, immensely strong, and much more reasonably priced.
7. Glittering Shwedagon Paya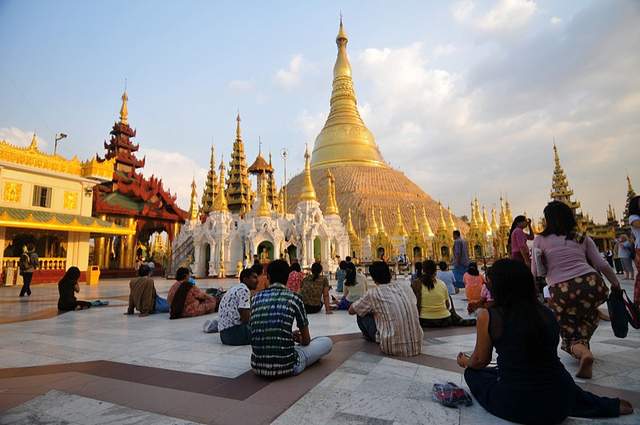 At over 2500 years old, Shwedgaon Paya is the oldest buddhist pagoda in the world. Inside it rest relics of the last four buddhas: Kakusandha's staff, Konagamana's water filter, a fragment of Kassapa's robe, and a few strands of Gautama's hair. These elements make Shwedagon Paya the most sacred site in Burma, a place that all Burmese Buddhists dream of visiting once in their lifetime. Step inside and the first thing you'll see is gold. Everywhere. Every spire, every rooftop, every detail is covered in gold. It glitters in the morning light, glows as if lit by an inner fire during the day and absorbs the deep red of the sky at sunset. It is at once raucous and serene. In its many individual temples, groups and individuals kneel in silent prayer. In the main area, children dressed in ceremonial fineries with faces ornately painted, are held on the shoulders of their fathers. Behind them follow a long line of family, friends, and musicians, all part of a child's ordination into the monkhood. A dream come true for many Burmese.
After dark, take a taxi to Shwedagon Paya's north gate, avoid the tourist lift and walk up into the main temple area with the locals. The entrance fee for tourists is US$5 with an additional US$5 camera fee.
8. Streets of smiling faces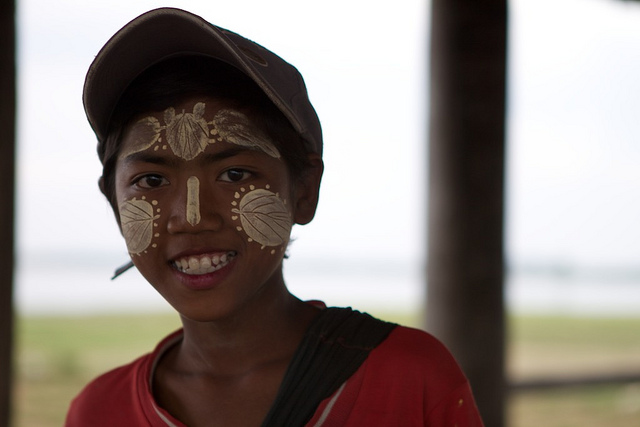 Thailand may be called the country of smiles, but compared to Burma it is positively miserable. In spite of Burma's reputation, it seems to be among the happiest countries you will ever visit. On every side street, in every village, every town, and every city you'll be greeted by smiling faces. Everyone is friendly beyond measure, eager to talk to you about your trip in Burma and hear your stories of home. It is such a friendly place, and everyone's English is so good, that you could easily talk away your entire day.
Perhaps this friendliness, like the lack of a tourist price, stem from Burma's devout buddhist populace and their belief that everyone should be treated as a friend. Perhaps it is a form of passive defiance against the aggression of the Junta. Whatever the reason for it, few places in the world will make you feel as welcome as Burma.
HUONG VIET TRAVEL – MEMBER OF PATA, ASTA, IATA
Add: 20 Nguyen Truong To Str, Hanoi, Vietnam
Tel : (84-4) 37162149 Fax: (84-4) 37161738
E–mail address: sales@huongviettravel.com
Website:
www.huongviettravel.com
|
http://www.aseantravelandtours.com
|
http://www.visavietnamonline.com
|
http://www.huongvietjsc.com
Vietnam Travel Packages
|
Vietnam Visa
|
Cambodia Tours
|
Myanmar Tours
|
Laos Tours
|
China Tours